COVID-19 UPDATE
Based on the Government guidance regarding COVID-19, we are closed to all non-essential travel but remain open for key workers and those who may have essential business travel over this time. This restriction is in place until the end of April 2020 and shall be reviewed on a frequent basis, please keep checking for further updates.
If you have a booking before the end of April that is classed as 'non-essential', we shall be in touch in due course to discuss your options with you. If you would like to make a booking and you are a key worker, please call 03333 209 349 or email cv19workers@kewgreen.co.uk.
The hotel is available for exclusive use for key workers, please email cv19workers@kewgreen.co.uk for more information.
If you are unsure if you are classed as key worker and need further information, please visit https://www.gov.uk/coronavirus. ID shall be required on check-in, if this cannot be supplied, you will be turned away from the hotel.
We look forward to welcoming everyone back to the hotel again soon
Supporting your plans
We know that flexibility is what our guests are looking for right now, so IHG are continually improving their policy to suit these uncertain times. For more information on IHG official updates please click here.
Stay comfortable at Holiday Inn Rugby - Northampton
The Holiday Inn Rugby-Northampton hotel is just a 15 minute drive to the east of Rugby in the pleasant village of Crick.
Due to its ideal location, the Rugby hotel boasts great views of the surrounding countryside from its 95 guest bedrooms, as well as a number of excellent facilities for guests and visitors, including full fitness facilities at the You Fit Health Club, delicious eating opportunities in our newly refurbished restaurant and the chance to unwind with a drink in the bar.
Check availability or call our reservations team on 0871 942 9094 and we'll look forward to welcoming you soon.
Our Open Lobby has arrived!
We are very excited to announce that our Open Lobby make over is complete! The Lounge, Restaurant and Reception areas now have a fresh, vibrant and relaxing feel.
Come in and see us and see the changes for yourself!
For those of your who we welcomed to the Holiday Inn Rugby Northampton during the refurbisment, thank you for your patience.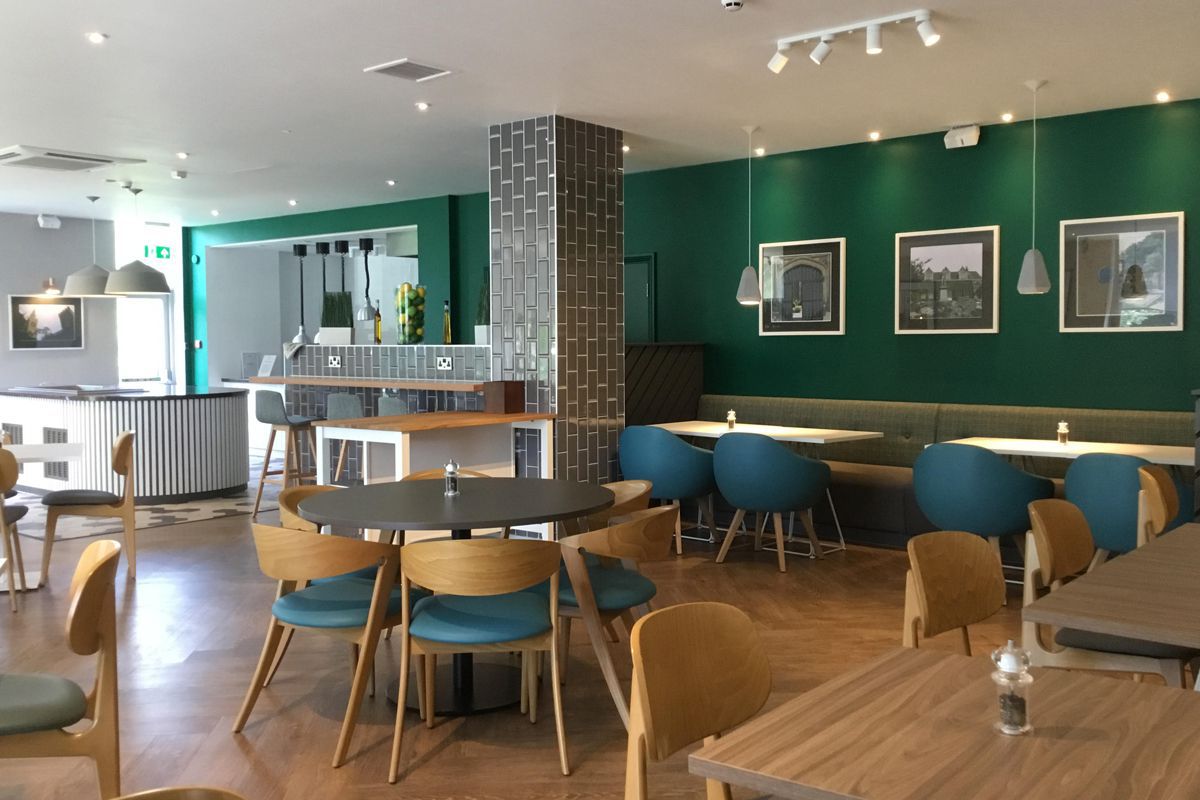 Have you gone green?
Have you chosen to go green with an electric car? Here at the Holiday Inn Rugby Northampton we have electric car charging points for you to use.

So whether you are staying with us overnight, attending a meeting or just passing by and need to recharge there are points there for you.
Just passing by? Why not recharge yourself while you wait? We proudly serve Starbucks coffee in our open bar and lobby, or why not grab a sandwich and a slice of cake while your at it?
Fore more information please call the Hotel on 01788 824800
Join us at the Holiday Inn Rugby Northampton to watch the Six Nations, Rugby's Greatest Champion this February and March
When you join us why not celebrate with our Six Nations Burger Deal.
Our wonderful Head Chef has combined all nations in this one burger!
Enjoy a classic beef burger topped with smoked bacon, Lorne sausage, crispy leeks, French Brie and Mainara sauce in a taosted bun with lettuce, tomato and gherkin. Served with skin on fries, coleslaw and a pint of Becks.
All this at a great price of £16.85
To help raise money for our chosen charity, Greenfingers, we will be donating 50p of each deal sold