New Safety Procedures - COVID19
The safety of our guests and employees is our number one priority and we would like to re-assure you that measures are in place to provide a clean, safe and welcoming environment in our hotel. Here is an overview of some of the measures in place:
New queuing system - A queuing system has been implemented at reception and food collection points with 2 metre floor stickers advising guests where to stand at a safe distance from each other. We have also implemented a strict rule that one individual/family is allowed in the lift at any one time, this is signposted and there are hand sanitising stations outside the lifts.
Contactless check-in and check-out process - Perspex screens have been placed on the reception desk and debit/credit card machines are cleaned every hour. Key cards are also left at the end of the reception desk ready for guests to collect and are sanitised after every use. Prior to check-out guests will be called to confirm any additional charges and invoices will be emailed to guests after departure.
Hand sanitising stations – multiple stations have been placed in all main areas of the hotel for guests to utilise. All high touch points are sanitised after every guest interaction or every hour depending on the usage including door handles, debit/credit card machines and pens.
Accommodation - There will be increased cleanliness of bedrooms before arrival/after departure of guests. This includes disinfecting all touchpoints within the bedroom, all non-essential items have been removed from the bedrooms and are available on request and for guests staying more than one night, housekeeping services have been reduced to minimise interaction of guests and employees but will be available on request.
Room service and grab and go breakfast offerings - Room service and a grab and go breakfast will be available, this service can be ordered via the phone and guests will be provided with a collection time along with the designated collection point information. All utensils provided will be disposable and food handling will be kept to a minimum.
Safety of our guests and employees is our number one priority - Our employees have been fully equipped with the necessary PPE equipment to keep them and our guests safe. Our employees have also been trained on maintaining a high standard of hygiene including hand sanitising after each interaction with a guest, rigorous cleaning procedures before and after each shift change and regular cleanliness upkeep within high traffic areas of the hotel. They have also been trained how to handle any suspected cases of COVID-19 within the hotel and how to keep guests safe if this did occur.
To find out more information, please click here
We are ready when you are ready, we look forward to welcoming you back to our hotel
Supporting your plans
We know that flexibility is what our guests are looking for right now, so IHG are continually improving their policy to suit these uncertain times. For more information on IHG official updates please click here.
Bureau Veritas
Bureau Veritas, a world leader in testing, inspection and certification, have confirmed that we are compliant in all areas and have given us a 100% score, providing you with the assurance that you will be in safe hands when staying with us.
Stay comfortable at Holiday Inn Rugby - Northampton
The Holiday Inn Rugby-Northampton hotel is just a 15 minute drive to the east of Rugby in the pleasant village of Crick.
Due to its ideal location, the Rugby hotel boasts great views of the surrounding countryside from its 95 guest bedrooms, as well as a number of excellent facilities for guests and visitors, including full fitness facilities at the You Fit Health Club, delicious eating opportunities in our newly refurbished restaurant and the chance to unwind with a drink in the bar.
Check availability or call our reservations team on 0871 942 9094 and we'll look forward to welcoming you soon.
Our Open Lobby has arrived!
We are very excited to announce that our Open Lobby make over is complete! The Lounge, Restaurant and Reception areas now have a fresh, vibrant and relaxing feel.
Come in and see us and see the changes for yourself!
For those of your who we welcomed to the Holiday Inn Rugby Northampton during the refurbisment, thank you for your patience.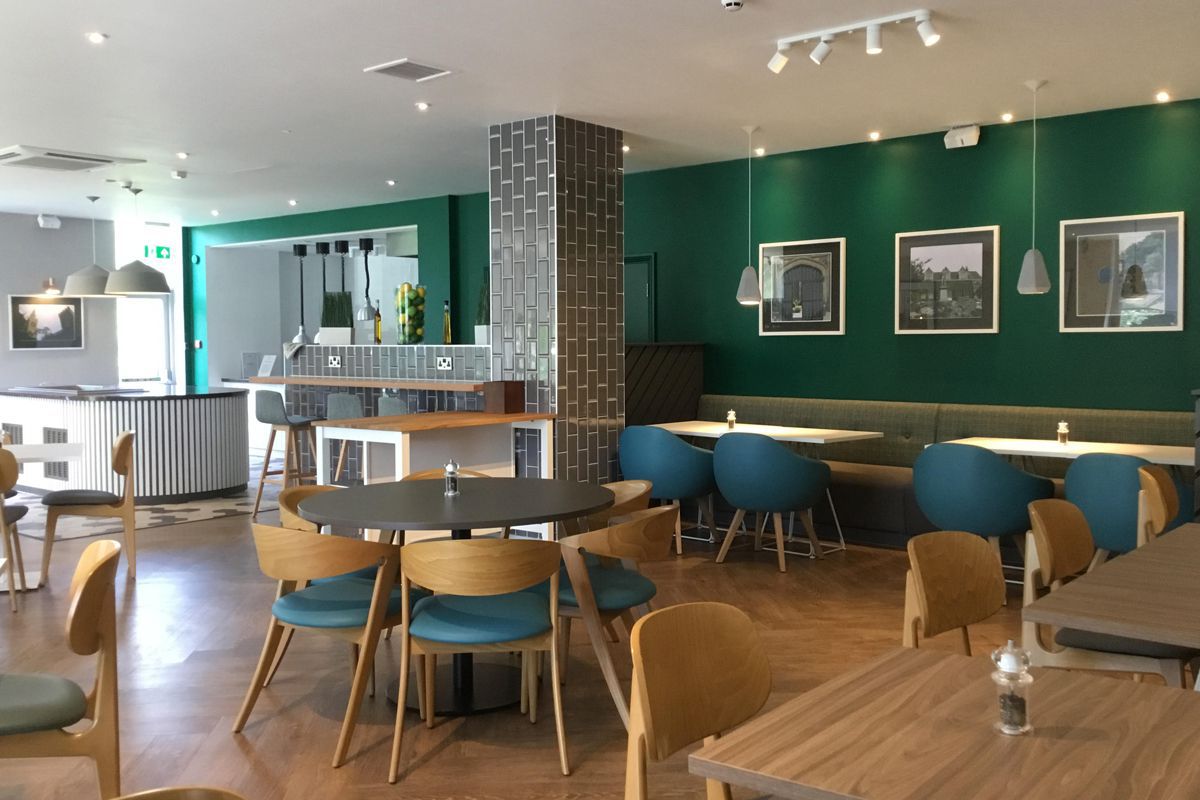 Have you gone green?
Have you chosen to go green with an electric car? Here at the Holiday Inn Rugby Northampton we have electric car charging points for you to use.

So whether you are staying with us overnight, attending a meeting or just passing by and need to recharge there are points there for you.
Just passing by? Why not recharge yourself while you wait? We proudly serve Starbucks coffee in our open bar and lobby, or why not grab a sandwich and a slice of cake while your at it?
Fore more information please call the Hotel on 01788 824800